The Road to Success
Learn how we make the process of car buying and selling better for everyone involved.
Watch Video
Customer Journey
Step 1
Easily find the perfect car
Your Express Storefront® is designed with modern shopping habits in mind. Customers can easily search and shop all of your inventory in your showroom or on any device. Responsive design ensures your inventory will look amazing on any size screen.
Step 2
Get pricing info upfront
Customers can see your best online price instantly or when they provide their contact info, if your OEM requires it. Your agents can communicate with them in real-time using our messaging platform.
Step 3
Build a deal in minutes
Customers can use your Express Storefront® to build their deal, taking into account different payment options. They can easily adjust the term and down payment.
Step 4
Value a trade-in
Customers can factor their trade-in value into the deal using Roadster's Express Trade® or a third-party tool of your choice. Our proprietary trade tool automates the capture of their trade-in info, gives you complete control over the value of their vehicle and allows you to make them a firm offer in just minutes.
Step 5
Add service and protection plans
Showcase your service and protection plans so customers can understand their value and easily add them to their deal sheet. They also have the ability to add on optional accessories.
Step 6
Accessorize
Make it easy for shoppers to customise their cars with optional accessories. Customers can load up on the extras they love — from boot liners to roof rails — right from your Express Storefront®.
Step 7
Finalise the deal
You have the ability to adjust the deal sheet in real time. Once it's finalised, simply share it with your customers and get their approval.
Step 8
Schedule pickup or delivery
Customers love efficiency and convenience. Deliver both — and even their new car. It's easy for customers to schedule either a pickup or delivery that takes less than 30 minutes.
Sales Agent Tools
Step 1
Be proactive
Help your internet and BDC teams up their game. Using our sales agent tools, they can proactively send interactive deal sheets to customers who inquire about pricing or who are coming to the end of a finance agreement. This builds customer confidence and reduces back-and-forth churn with your sales team.
Step 2
Wow customers in the showroom
Use our Vehicle Recommender to showcase cars that fit your customers needs. Then enable your customers to touch, tap and toggle their way through an interactive car-buying experience using iPads and kiosks in your showroom.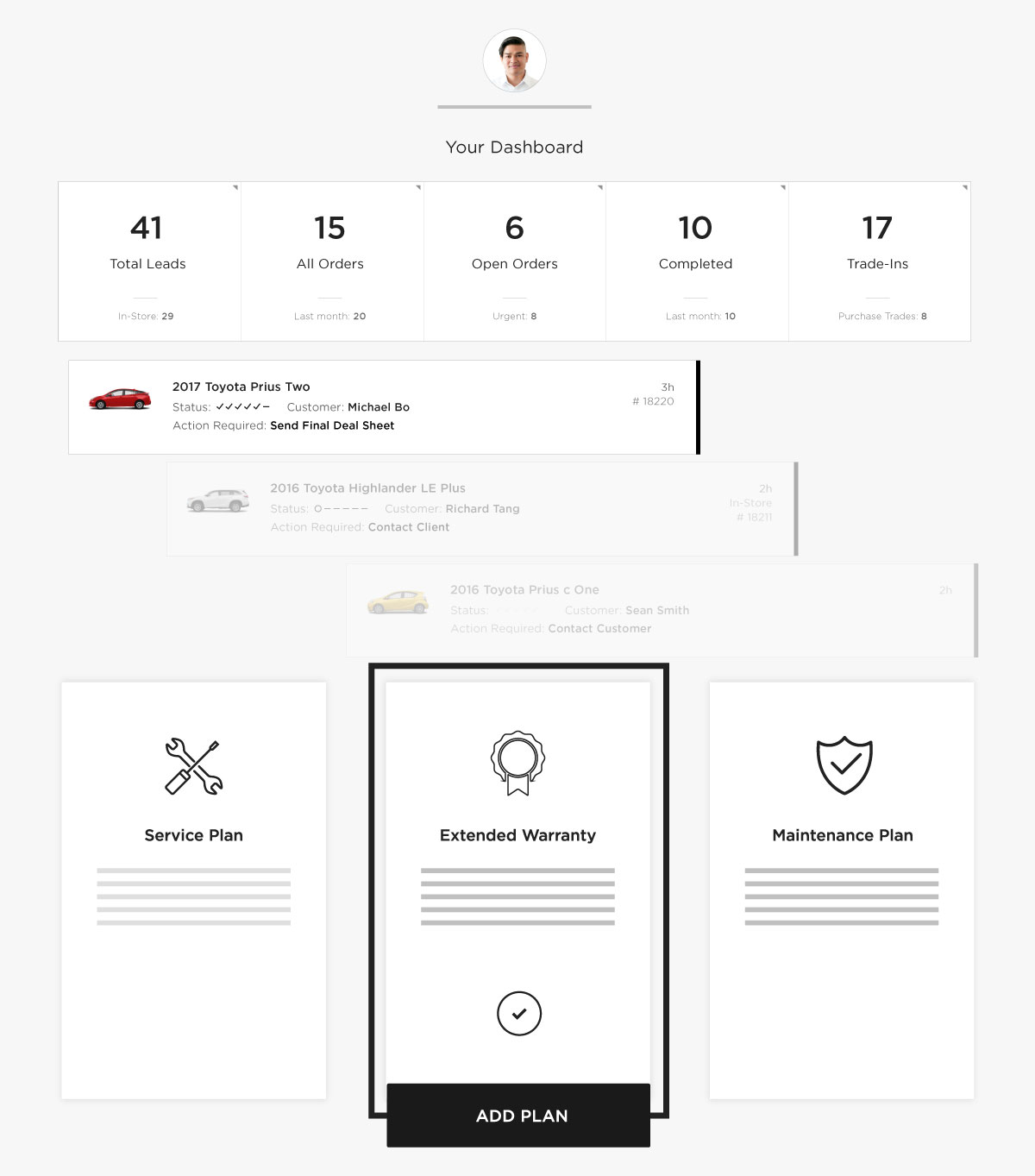 Step 3
Work deals with ease
Our Express Storefront® product comes fully loaded with powerful deal management tools. From your Dealer Dashboard you can communicate with customers, receive their credit application and trade-in info, and access their entire deal to adjust terms as needed.
Step 4
Flaunt your F&I
Whether interacting with customers in-store or online, there are several opportunities for you to educate customers about the value of your service and protection plans, and entice them with accessories. It's easy for customers to add both to their deal sheets.
Step 5
Know your stats
See which agents are using your Express tools most effectively and how it's impacting your bottom line. Our full reporting suite helps everyone perform at their peak.
Setup
Step 1
Get up + running fast
Our implementation team will get you ready to roll with Roadster in just weeks. An inventory feed is set up with your existing provider and we'll load your specified finance and lease rates, layering in all applicable incentives, rebates, taxes, service plans and accessories.
Step 2
Integrate your current systems
We work well with others — website providers, CRM companies, trade valuation tools, lending solutions, auto decisioning tools, etc. You can easily integrate them into our solution to help your team function as effectively as possible.
Step 3
Get compliance cleared
Whether it is OEM compliance, regional market compliance or your own dealership's legal compliance — we go through the necessary steps to ensure you're in the clear before launch day.
Step 4
Drive in traffic
Once your Express Storefront® is live, we'll help make sure customers know all about it. We'll supply you with free marketing assets that are customised to your brand — like homepage heroes, banners, buttons and video assets — to help drive traffic to your available cars inventory.
Dealer Success + Training
Step 1
Get off to a strong start
We'll train your entire staff remotely on the customer journey, and sales agent and deal management tools. We'll start with a management meeting to ensure alignment and to customize our training to your existing process. The idea is to get you up and running fast so that we can make our in person visit more meaningful.
Step 2
Review + improve
Personalized follow-up comes standard with any Roadster product you purchase. We'll check in frequently, post-launch, to make sure everything is going smoothly — including setting up your CRM, on-boarding new hires, modifying configurations and reviewing our reporting suite.
Step 3
Receive ongoing support
Our support never stalls. Our dealer support crew is available to offer you real, live help any day of the week.
Reach out to us at:
[email protected]